In connection with the launch of our new Strategic Partnership with Munich Urban Colab, we have asked participants at the launch event and the program director from Munich Urban Colab to weigh in on the opportunities and future of this collaboration.
The new Strategic Partnership between BLOXHUB and Munich Urban Colab – another hub creating sustainable solutions for urban challenges – was launched at an event in Munich, which was hosted in collaboration with the Royal Danish Consulate General & Innovation Centre Denmark.
It included three different innovation workshops on sustainable urban development, circular economy, and urban mobility, respectively, as well as panel discussions and speakers. We've asked participants from the event and the Program Director from Munich Urban Colab, Sabine Hansky, to elaborate on their experience of the launch and their hopes for the ongoing partnership.
Why BLOXHUB and Munich Urban Colab?
Munich Urban Colab is a hub whose goal is to develop sustainable solutions for urban challenges and to create a livable city of the future. Through cross-sector and interdisciplinary collaboration, Munich Urban Colab brings together start-ups, established companies, voices from science, fresh talent, and the City of Munich, and together they are developing and testing innovative concepts together with citizens.
From a BLOXHUB perspective, our Strategic Partnership with Munich Urban Colab will enable us to create even better solutions, combining the knowledge and know-how of our two ecosystems. But what is Munich Urban Colab's take on the partnership? The Program Director of Munich Urban Colab, Sabine Hansky, explains:
"Cities worldwide are facing huge challenges: digitization of the infrastructure and traffic management, alternative means of transportation, ideas for waste disposal, energy supply, and health care. But urban challenges are complex and cannot be solved by anyone alone. They call for collaboration across all industries and disciplines. Munich Urban Colab and BLOXHUB have very similar approaches, and both envision a city that is not only smart, but livable: sustainable, resilient, inclusive, and beautiful."
The launch of the partnership was the first meeting of our two ecosystems, and they were put to work on three different workshops which brought lively exchanges, concrete ideas, feedback, and connections to promising future partners – a good start, according to Sabine Hansky:
"We hope that this partnership will foster joint projects, collaboration, knowledge sharing, and exchange of experiences. We had three very inspiring workshops, and follow-up meetings are currently being arranged with the project leaders. We had a great kick-off – let´s see, what comes out of it," she says.
To Complement and Inspire One Another
The workshop on urban mobility was hosted by MCube – a unique network out of Germany's leading technical university Technische Universität München (TUM) with partners from science, business, the public sector, and society, which aims to design and implement state-of-the-art solutions for the future of mobility. Managing director, Oliver May-Beckmann, talks about the experience of the workshop:
"We were hosting the mobility workshop, and I am very, very happy about the outcome. The participants gave valuable feedback and insights into the cases from Munich. And I had the impression that our flagship projects on the future of mobility were very inspiring for the Danish participants as well," he says and further elaborates on the possibilities of the partnership:
"Copenhagen and Munich face similar challenges regarding the future of mobility. Copenhagen is the shiny lighthouse for us regarding the excellent integration of human-centered design, bike's first policy, and bold planning decisions for real livable cities. On the other hand, Germany and Munich are very attractive for deep-tech, industry innovation, and sustainable business ideas. It's a real win-win when these two innovation powerhouses cooperate more. We can complement and inspire each other perfectly."
Another workshop, the one on sustainable and multifunctional industrial areas in cities, was co-hosted by Dr. Ursula Triebswetter, Deputy Head of the Economic Policy Unit of the City of Munich, and a member of the management team of Munich Urban Colab. She says of the experience:
"I was very much impressed by the speed of the ideation process which the Danish and German workshop participants developed during a very short period. A set of interesting ideas arose around a piece of industrial land to be developed in Munich, and our Danish guests gave us great ideas towards more sustainable ways of building and land uses."
Commenting on the future of the partnership between Munich Urban Colab and BLOXHUB, Dr. Ursula Triebswetter says that she hopes to deepen the relationship further in the future to grasp new ways of working together and collaborating on projects:
"We look forward to our next project meeting here in Munich in the fall where we will invite our Danish guests again and ask for their views and inputs in the further process of our project. We believe in the power of collaboration geared for lively solutions for sustainable cities," says Dr. Ursula Triebswetter.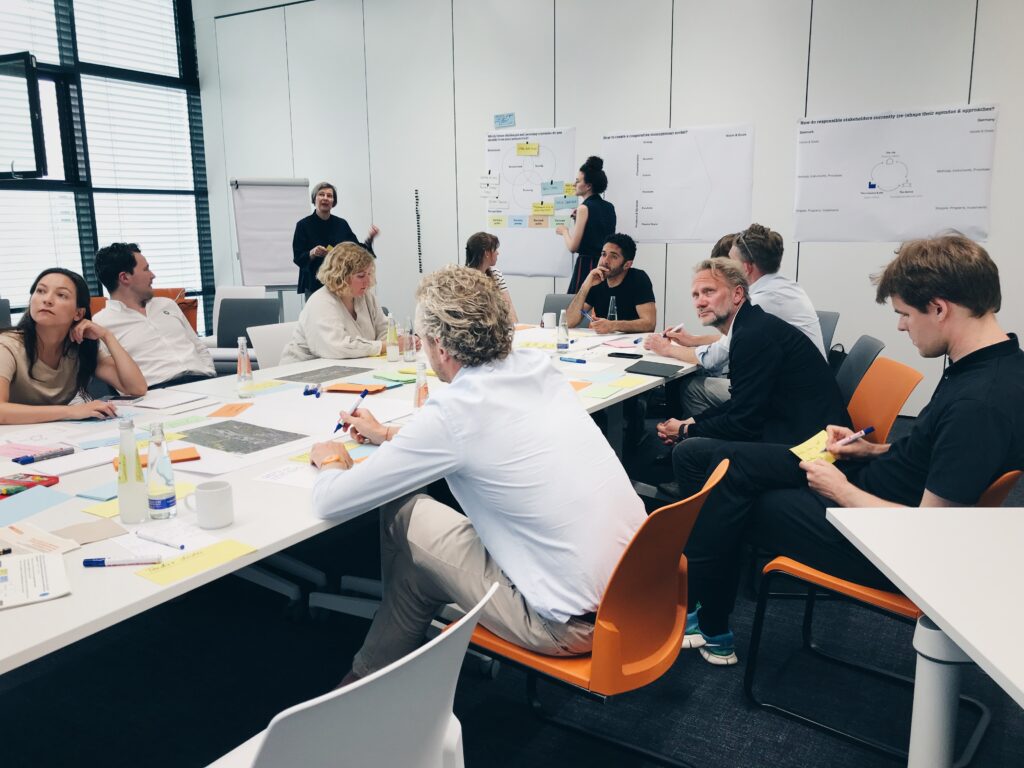 Collaborating for Sustainability
One of the participants at the launch event and the workshop co-hosted by Dr. Ursula Triebswetter was Christian Dahl, Director at Morris+Company, an award-winning architecture and design company from London, which recently opened an office in Copenhagen. To him the partnership presents valuable opportunities for collaboration: "Being part of an international and diverse network of professionals broadens one's perspective on how to approach a challenge. We deeply believe that this is fundamental to combat the climate crisis; to collaborate across borders and specialized fields of work. Having access to network hubs such as The Urban Colab in Munich is an efficient way of accessing the latest and newest knowledge, and it is essential to move ideas faster," he says.
He highlights the workshop format of inviting real-time case studies and actors into the network as a good platform for activating all levels of knowledge and an effectful way of getting to know one another quickly through shared interests and needs. He takes inspiration and new network opportunities with him from the launch event:
"I hope to continuously learn from other organizations, and individuals and develop a fruitful network and relationships, which could lead to potential collaborations in future projects and not least push the bar for a sustainable world," says Christian Dahl.
---
If you want to know more about our Strategic Partnership with Munich Urban Colab, please reach out to Head of Strategic Partnerships, Martine R. Kildeby.