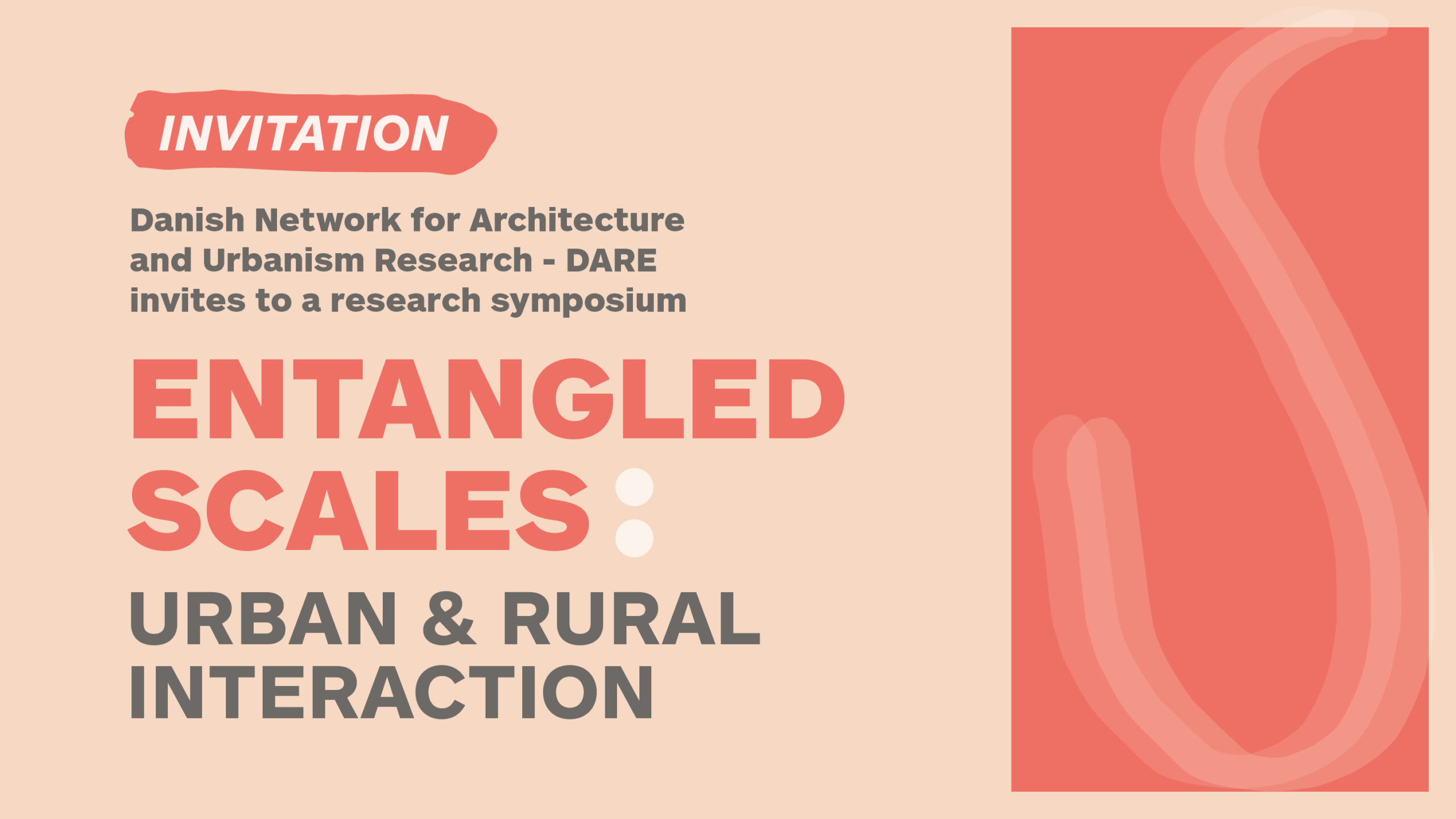 Danish Network for Architecture and Urbanism Research – DARE invites to a research symposium
ENTANGLED SCALES: URBAN & RURAL INTERACTION
OBJECTIVES:
Climate change and the biodiversity crisis call for a new and far more comprehensive understanding of scales that operate in entangled correlations, rather than isolated enclaves. The "ENTANGLED SCALES – Urban and Rural Interaction" Symposium focuses on overlapping scales and deep landscape structures as a background for fundamental research in Denmark's future architectural development. To plan and build as an inter-connected organism, from the open landscape over hinterlands, suburbs and cities, and down to the single building and detail, rather than randomly planned, disconnected units, is the core research question of this symposium.
The objective of the symposium is to not only share our current research projects within aspects of entangled scales, but also to identify potential research collaborations and potentially, to identify a joint research project that can work across and connect all scales of the built environment.
The format will be participatory with 2X2 presentations that will set the scene for debates at the tables with feed-back in plenum. There will be participation both from academia and companies giving the opportunity for networking and discussions covering many aspects of the theme.
This is the first symposium out of three exploratory forums for contemporary research in architecture, urban design and landscape planning. The next symposium will be in Autumn 2023: "BUILDING AS AN ORGANISM" and August 2024: "THE POWER OF KNOWLEDGE: RIGHTS TO DEFINE FUTURES"
SIGN UP: Please send an e-mail to Pernille Berg, Science Director at BLOXHUB: pbe@bloxhub.org
______
PROGRAM:
9.30 Coffee & registration
10.00 Welcome by Hans Jørgen Andersen and Thomas Bo Jensen
10.10 – 12.00 CONTINUUM
Tom Nielsen, Professor at Aarhus School of Architecture talks about his new book "BYEN DANMARK", in which he reads
Denmark as one big coherent city.
Jonna Majgaard Krarup from Royal Danish Academy talks about rural landscapes: lessons to be learnt?
Short break
Identifying potential collaboration in groups

 
12.15-13.00 Lunch
13.00 – 15.00 WATER
Ida Sofie Gøtzsche Lange, Aalborg University talks about the lives of small Danish commercial harbours and their influence on the rural landscape
Katrina Wiberg, Aarhus School of Architecture talks about "The Missing Link" a methodology to read the deep patterns of the landscapes,
which dwells under our cities, and to deal with the transformation of our landscapes and cities with water as a guide.
Short break
Identifying potential collaboration in groups

 
15.00 Plenum Discussion 
How is research applied and which role does architectural research play in the topic of climate change? Can we glimpse a common game changing research project between our institutions?