We should all have democratic access to the water, say the partners behind the company, SEANICS, who want to offer floating saunas, yoga studios, and meeting facilities to all residents of Copenhagen.
It seems evident that the two men sitting in the warm embrace of the morning sun at Copenhagen's idyllic South Harbor, back against a floating sauna, engrossed in a conversation that alternates between intimate conversation and loud, hearty laughter, know each other very well.
Both individuals have dedicated their professional lives to developing Copenhagen's blue urban spaces and harbor, fueled by an unwavering passion for water. A passion that in 2021 culminated in a partnership forged by a shared dream: 
"Access to the water for all citizens."
Kasper Eich-Romme is the visionary behind the successful enterprise GoBoat, embarked on his journey in 2013, co-founding the venture with two partners. Their business idea was to rent out electric picnic boats, democratizing access to Copenhagen's canals and the harbor for visitors and residents alike. Today, GoBoat operates in 17 global cities, a testament to the possibility of building and scaling a sustainable business, as Kasper proudly affirms.
Thomas Fokdal, an experienced advisor in commercial urban real estate development and the founder of the consultancy Copenhagen Windows, boasts an impressive resume with prestigious projects at Papirøen, Sluseholmen, and Nordhavn, among others.
We have arranged a meeting with the two partners to delve into their latest joint project, SEANICS, and to have a close-up look at the recently completed floating, sustainable sauna that has been acquired by the City of Copenhagen and is about to be relocated from its current spot to its permanent location.
Kasper provides insights into the development, "SEANICS was the natural progression following GoBoat. Our vision was to create a respectful and sustainable gateway to the water that seamlessly integrates with its surroundings."
The sauna is the second of its kind, offering Copenhagen's residents a pop-up sauna experience through a convenient book-and-go system. SEANICS' first floating sauna made its debut in Inner Copenhagen in winter 2021 before making its way to GoBoat in Berlin.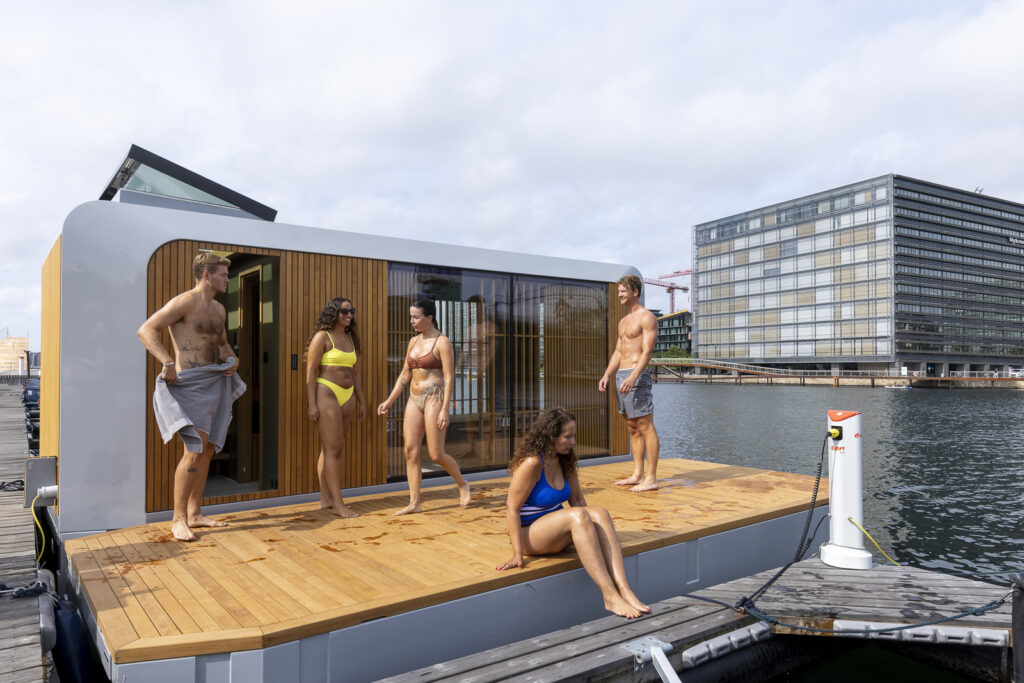 Like GoBoat, the idea behind the new company is to democratize access to the blue urban spaces, taking another step towards transforming the harbor into a communal space where residents don't merely observe the water but coexist with it.
The floating sauna is the world's first catamaran boat. When put into production on a larger scale, it will be constructed from a recyclable bio-composite made of 30 percent hemp fibers and 70 percent basalt, meaning that the construction material has a minimal environmental impact – something that has been paramount for the project.
Photo: Torben Eskerod
The partners describe SEANICS as akin to Lego bricks, easily adaptable for different locations, purposes, and needs. Its components can seamlessly be designed into saunas, yoga studios, meeting spaces, or event venues.
The business model operates on a booking system and pay-per-use, much like GoBoat. Thomas highlights its rationale: " The surge in winter bathing in Demark has resulted in long waiting lists. The module can function as a sauna without the need for a membership. You can book it with friends for a specific time slot. "
To date, the Municipality of Copenhagen has acquired two modules. Kasper and Thomas aspire to see these innovative structures scattered throughout the harbor – placed harmoniously in tune with their surroundings.
Looking ahead, the future appears promising for SEANICS. Thomas states, "Most international harbor cities located by the water are undergoing the same kind of transformation that Copenhagen has been through, and with that transformation comes opportunities. We believe that other cities want what we have, and the Copenhagen harbor model could become a missing link that engages the maritime environment globally."
The fact that building modules are now underway has not made the two partners slow down, and new plans are already underway. A boat-sharing program where residents in an area can share boats or modules is in the pipeline.
It's time to leave the South Harbor and its idyllic, low-paced surroundings. When asked to conclude our talk and sum up what ingredients have been essential in realizing the project, Kasper and Thomas respond in unison:
"Partnerships!"
Kasper elaborates,
"All the good things we have experienced have happened through partnerships—it really is the key, and it will only become more important in the future. When we work together across boundaries, cross-pollination occurs."
Thomas concurs, emphasizing the significance of cross-pollination and their choice to be part of BLOXHUB. He states, "Cross-pollination is key. That's why we sit at BLOXHUB—it helps us position ourselves and engage in dialogue with all the right partners, not only from Denmark but also from all corners of the world. We wouldn't have liked to be without it."
___
Thomas Fokdal of Copenhagen Windows and Kasper Eich-Romme of GoBoat are integral parts of the BLOXHUB ecosystem and have utilized BLOXHUB as a hub for developing SEANICS. The project has been supported by, among others, VELUX and the Danish Innovation Foundation.
This 'Meet the Ecosystem'  article series explores the effects of the BLOXHUB ecosystem on the world and the green transition.