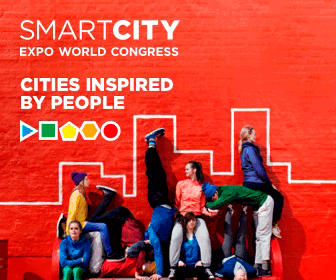 The Smart City Expo World Congress (SCEWC) in Barcelona gathers companies, decision-makers, and innovators in what is one of the pivotal global events for smart and livable cities. The Nordic Pavilion at the SCEWC is recognized as an attractive platform for expo participants. In recent years, a Smart City Business Forum has been organized by Cleantech Scandinavia together with the Netherlands Enterprise Agency on the day leading up to the Expo. In 2022, the focus of the Business Forum will be on the EU's 100 Climate-Neutral and Smart Cities, in collaboration with Spanish partner organizations.
As part of the Business Forum on 14 November, the Danish expo partnership – BLOXHUB, We Build Denmark, Digital Lead, State of Green – will conduct a half-day innovation workshop, which will be based on a specific case from Madrid or Barcelona, and it will explore how the EU mission can be a catalyzer for new types of business models based on healthy, green living in the case city. The workshop is an opportunity to engage with new European colleagues and generate ideas and partnerships, which bring you closer to understanding the business opportunities within the pan-European partnership building between mission cities.
The workshop will be facilitated based on the methodology of Design Thinking by the experienced BLOXHUB innovation workshop program, Urban Partnerships. Participants will represent cities, researchers, and companies with different perspectives on smart city development. During the workshop, various platforms for further collaboration will be formulated for further action.
Would you like to join? Please contact Program Manager at BLOXHUB Torben Krab: +45 51624031 / tkr@bloxhub.org