Copenhagen: 9:00 AM – 12:00 PM
London: 8:00 AM – 11:00 AM
Seoul: 4:00 PM – 7:00 PM
Shanghai: 3:00 PM – 6:00 PM
Bengaluru: 12:30 PM – 3:30 PM
__________
The main goal of the summit is to connect international stakeholders with Danish researchers, government bodies and companies to share knowledge and create innovative
solutions on smart cities and the green urban transition. The participants will

be matched with Danish experts and stakeholders within urban development, smart cities and future architecture to connect,

create and finally commercialize.
We will discuss:
Why the Nordic competencies should be part of the green building eco-system.
How we see opportunities for collaboration and innovation between Danish and international stakeholders.
How to engage in concrete partnerships across borders.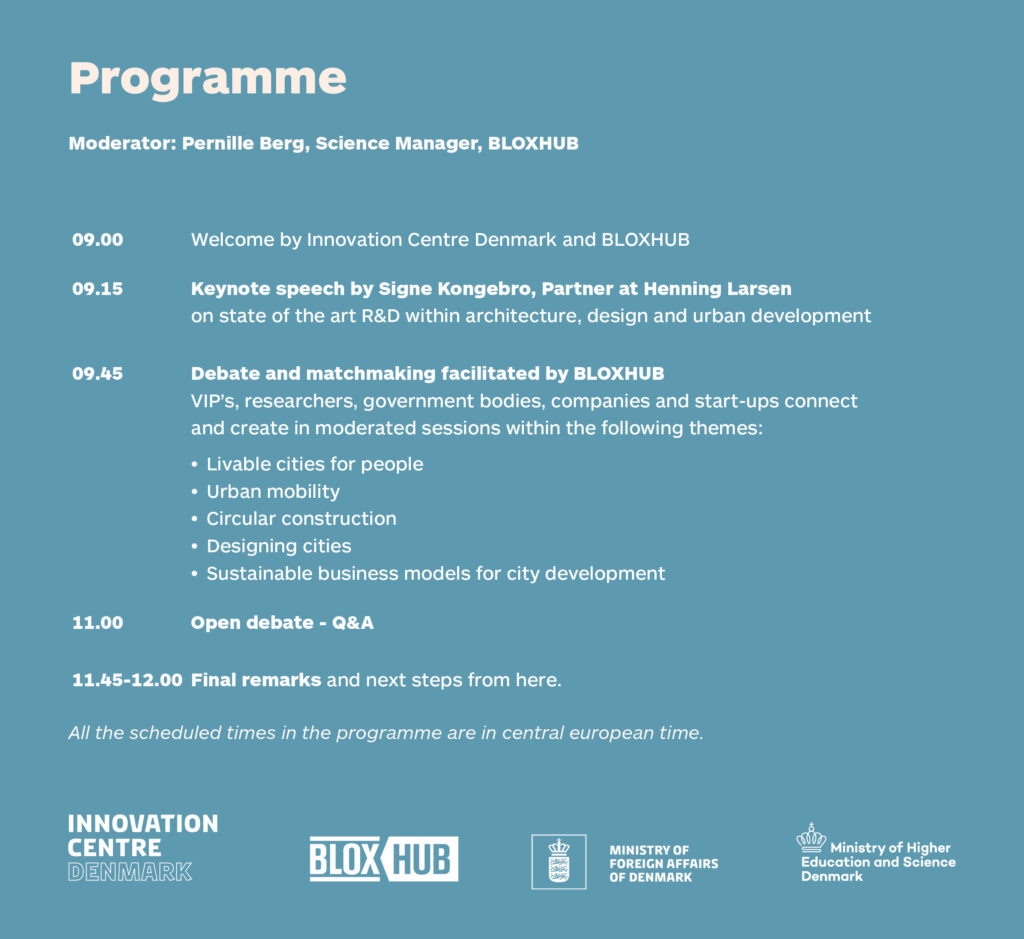 KEYNOTE SPEAKER
Signe Kongebro
Global Design Director, Urbanism and Landscape/Partner
Henning Larsen
"There is absolutely no doubt that urban development has to ensure a green transition from its inception to implementation. However, the success criteria of the green transition is not only green but also to create social impact."
MODERATOR
Pernille Berg
Science Manager
BLOXHUB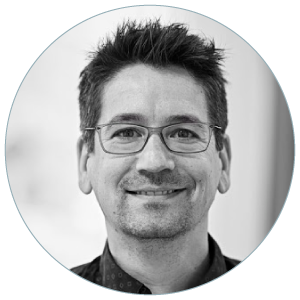 Peter Normann Vangsbo
Head of Innovation Centre Denmark,
Seoul
"When it comes to reinventing cities, we want to combine technology, social innovation and green development. We need to connect both researchers, entrepreneurs, community groups, private businesses and decision makers in the big cities in order to connect, create and commercialize sustainable solutions for the future "
Debate and Matchmaking
Livable cities for people
Cities continue to experience population growth. Megacities are growing and as the big cities grow bigger, so do the challenges. We must ask ourselves: how do we ensure healthy cities which support high quality of life? What do livable cities require and what do the citizens wish?
__
ICDK Shanghai: Thomas Trøst Hansen
BLOXHUB facilitator: Torben Krab
Urban Mobility
Providing infrastructure services to meet the demands of businesses, organisations, households, tourists, and citizens at large is one of the major challenges of economic as well as urban and sustainable development.In this breakout session we will discuss how new forms of mobility and technological solutions can support urban mobility.
__
ICDK Tel Aviv, Lasse Vinther-Grønning
BLOXHUB facilitator: Lotte Breengaard
Circular Construction
Construction is one of the industries that accounts for most CO2 emissions. Therefore, circular construction has also gained ground as one of the ways in which CO2 emissions can be reduced. But what is circular construction and what does circular construction mean from a urban planning perspective? How do we ensure that materials can be recycled and included in a circular process as just one of the questions which must be addressed and answered in the green transition.
__
ICDK Seoul: Peter Normann Vangsbo
BLOXHUB facilitator: Jakob Norman-Hansen
Designing Cities
What should the cities of the future look like? Urban design has to a large extent been characterised by a focus on technological aspects of cities which is commonly known as the smart city strategy. The concerns and interests of citizens are nevertheless coming to the forefront nowadays with the awareness that a liveable city does not only consist of good infrastructure and sustainable energy supply but also citizen input and feedback. But how do we integrate citizens' ideas and wishes in the urban planning process?
__
BLOXHUB facilitator: Helle Stendorff
Sustainable business models for cities
With an increased focus on securing cities against climate change, there is also a focus on long-term investments. But who invests in the cities and which business models to use if we are to ensure a sustainable urban development that benefits investors, the climate as well as the people who live and work in the cities?
__
ICDK Shanghai: Martin Rune Hoxer
BLOXHUB facilitator: Martine Reinhold Kildeby
__________
Innovation Centre Denmark consists of a total of 7 centres located in strategic innovation hotspots around the world, which connect Danish innovation to international partners. ICDK have insights into research, science, technology, new business models and commercial innovation. Through the seven locations, they:
Connect Danish innovation to global markets
Give access to international knowledge and research in innovation hot spots
Unite government bodies, academia and businesses
Provide access to investors and key stakeholders abroad.
Innovation Centre Denmark (ICDK) is a partnership between the Ministry of Higher Education and Science and the Ministry of Foreign Affairs of Denmark and co-organizer of "A greener future: Re-inventing cities".
__________
Further information on ICDKs work and related articles:
Smart City and Smart Mobility in Israel, ICDK Tel Aviv
Greener Future: Reinventing Cities, ICDK München
Denmark's national space strategy – Update of strategic objectives, Ministry of Higher Education and Science, DK
Green solutions of the future – Strategy for investments in green research, technology, and innovation
Social housing can provide inspiration for South Korea's housing problems (NB the article is in Danish only).
Build the world of tomorrow with the waste of today, ICDK Seoul
Nordic Talks Korea: Nordic Talks Korea is a flagship initiative by the Nordic Embassies in Korea that aims to start Nordic-Korean conversations about solving the global challenges and inspire citizens to take action for a more sustainable society.
Korea´s Green Transition and Technology Strengths, ICDK Seoul