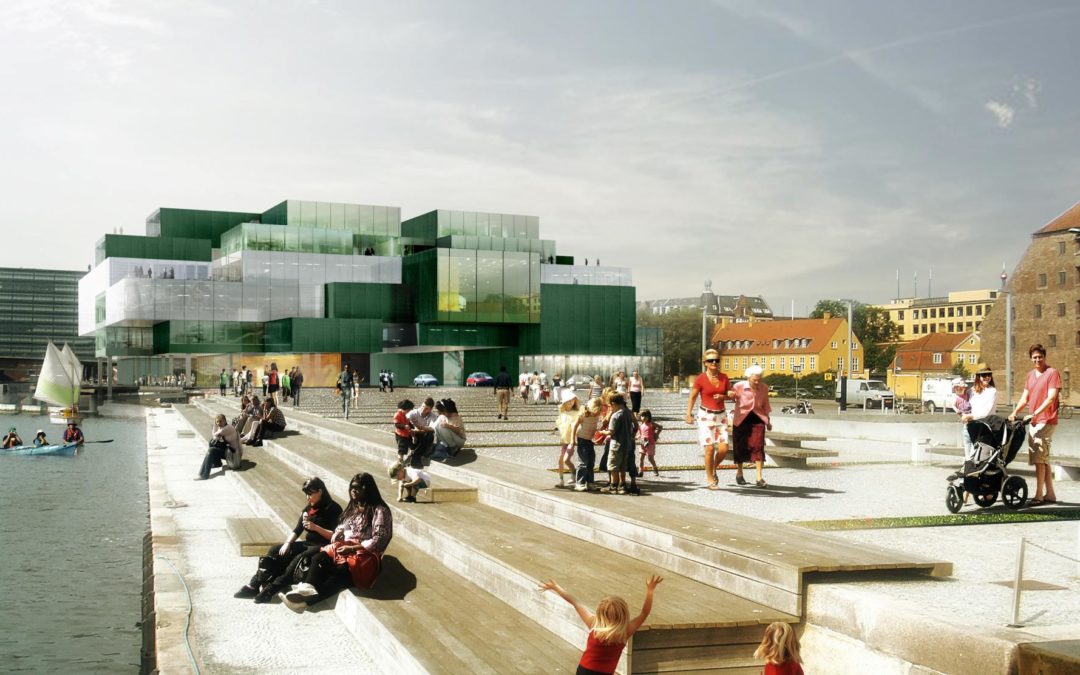 Danske virksomheder er helt i front, når det gælder bæredygtige by og byggeløsninger, men hvordan står det egentlig til med teknogien?  
Bæredygtige bygninger, grønne pladser og blå strøg med plads til både regnvand og rekreativitet. Danske virksomheder har gode traditioner for at skabe nogle af verdens bedste by-løsninger. Men er det nok?
Ikke hvis man spørger Torben Klitgaard, direktør i BLOXHUB – en forening, der samler aktører inden for byudvikling med henblik på at understøtte deres forretningsudvikling og eksportmuligheder:
"Hvis vi vil eksportere vores by- og byggeløsninger, også i fremtiden, bliver vi nødt til at skrue op for integrationen af data og nye teknologier. Teknologierne gør en kæmpe forskel og betyder blandt andet, at vi kan tage højde for fremtidige leve- og adfærdsmønstre. Vi kan nemmere komme katastrofer og ulykker i møde, og endelig kan vi spare rigtig mange penge på byggeriprojekter, fordi teknologierne hjælper os til at udgå fejl og forudse problemer".
Også erhvervsminister Brian Mikkelsen har fokus på, at Danmark ikke skal sakke bagud, når det gælder digitalisering:
"Digitalisering og anvendelse af nye teknologier skaber helt nye muligheder for erhvervslivet og for bæredygtig byudvikling og smart city løsninger. Min ambition er at gøre Danmark til en digital frontløber, og hvis vi lykkes med at kombinere virksomhedernes digitalisering med vores stærke danske kompetencer inden for bæredygtig byudvikling, så kan det blive et springbræt for eksport af bæredygtige by-løsninger."
Teknologierne findes – udbredelsen mangler
De teknologiske værktøjer findes allerede, og mange større virksomheder er for længst hjemmevante, når det gælder om at arbejde databaseret, bruge BIM-modeller og AI (kunstig intelligens). Men hvorfor lider byggebranchen så alligevel under manglende implementering af teknologi?
"Vi har ikke været gode nok til at bredde teknologierne ud i hele byggeriets økosystemer. Mange store rådgivere er eksempelvis rigtig gode til at håndtere og implementere digitale værktøjer, men hvis håndværkerne ude på byggepladsen ikke har en hurtig og nem måde at se, hvor ventilationsrørene skal være, så er det, at der sker dyre fejl", forklarer Torben Klitgaard.
Videndeling er forudsætning for succes
Hvis vi skal lykkes i at integrere de nye teknologiske værktøjer og dermed, i sidste ende, skabe endnu bedre byer og undgå flere fejl i processen, er det nødvendigt at arbejde sammen på tværs af fagligheder:
"Vi kan ikke forvente, at alle inden for tech-branchen kender behovene, mulighederne og udfordringerne inden for byggesektoren. Og vi kan heller ikke forvente, at en arkitekt er softwareekspert. Derfor er det en helt afgørende forudsætning, at vi skaber innovationsmiljøer, hvor virksomheder kan arbejde sammen på tværs af fagligheder," siger Torben Klitgaard.
Det udsagn vækker genklang hos administrerende direktør i Realdania, Jesper Nygård, som er en ud af tre stiftende partnere bag foreningen BLOXHUB. Sammen med Erhvervsministeriet og Københavns Kommune har de tre parter sat BLOXHUB i søen for at fremme gode tværfaglige løsninger, der kan sælges i udlandet:
"BLOXHUB er porten ud i verden for danske virksomheder, der satser på innovative produkter inden for bæredygtig byudvikling. Her kan de få hjælp til at udvikle deres ideer i tætte samarbejder med tværfaglige virksomheder og andre byer. Og de kan få støtte til at gå de første skridt ud på det internationale marked."
Når software møder byggebranchen
For at sikre samarbejde på tværs af fagligheder og typer af virksomheder, har man I BLOXHUB udviklet et såkaldt MATCH Co-create forløb, hvor meget forskelligartede virksomheder arbejder sammen om at løse udfordringer.
Her har blandt andet softwarevirksomheden DALUX fundet sammen med aktører fra byggebranchen og i fællesskab udviklet verdens første Augmented Reality (AR) til byggebranchen, som gør det muligt for håndværkere at se en blanding af virkelighed og byggetegninger i 3D gennem en almindelig mobiltelefon:
"Værktøjet sparer både tid og penge, og entreprenører kan drage stor fordel i form af kvalitetssikring og montage. Det kan være enormt kompliceret at navigere i alle de mange papirtegninger i byggebranchen – men med AR behøver vi ikke at tænke så meget, men bare kigge", forklarer direktør i DALUX, Torben Dalgaard.
Kom til BLOXHUB-debat om Urbanization and Exports
Fredag d. 6. oktober 14-16 sætter BLOXHUB emnet til debat under overskriften Urbanization and Exports – bridging Digitalization, Architecture, Construction and Design.
Her vil journalist Mikkel Frey Damgaard stille spørgsmål – blandt andet til erhvervsministeren og diskutere, hvordan Danmark kan løfte lokale og globale byers udfordringer gennem digitalisering.