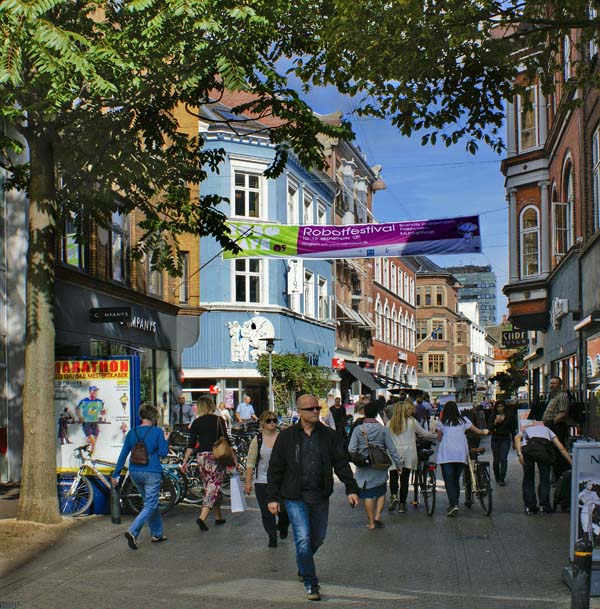 BY ANNE SKOVBRO, EXECUTIVE DIRECTOR AND CPO OF REALDANIA & LYKKE FRIIS, CHAIR, THE DANISH FOREIGN POLICY SOCIETY.
We discuss growth in Denmark. Where should it come from, and who should provide it? A good place to look is to the world's big cities. Between now and 2050, world cities are expected to grow by about three billion people. This will create a massive need for sustainable solutions and a significant export potential for Danish companies. Seizing the opportunity will require closer cooperation between diplomacy, business and civil society to create the international relations that will make all the difference.
Build Odense in a day. Do it every day. All year. For the next 35 years. Complete with water, heat and energy supply, infrastructure, buildings and urban spaces. This is one way of spelling out global urbanization. By 2050, twice as many people are expected to be living in cities compared to today. Worldwide, this corresponds to an annual increase of about 65 million, which is roughly five times the size of London. Or about 180,000 each day, which corresponds to roughly the same as the population of the municipality of Odense. 95 per cent of the urbanization up until 2050 will happen in developing countries, and by 2030 the urban population of Asia and Africa will already have doubled. Urbanization is inseparable from a necessary boost to prosperity for the poorer part of the world population and, as such, will result in a massive increase in pressure on the planet's resources. Towards 2030, the global demand for water, for example, will increase by 40 per cent, while energy consumption is expected to increase by 50 per cent. As a number of experts in international policy have argued, these 'mega trends' are also a crucial factor in future security policy. 'Energy wars', 'climate refugees', etc. have long been concepts that both theorists and practitioners have had to deal with. It is all highlighted by the fact that those regions lacking energy and are characterized by significant climate changes are also affected by poverty, political tensions etc. The EU's first foreign policy strategy, therefore, refers to climate change as a 'threat multiplier'. With 2015's Paris climate agreement and the United Nations' Sustainable Development Goals toward 2030, a necessary political focus on finding new sustainable pathways to growth has been created. Both underline how the development of the world's growing urban areas plays a crucial role in the green transformation of the global economy and to ensure quality of life and a sustainable prosperity boost for world's poor.
Innovation and everyday life
Copenhagen and other Danish cities have shown that it is possible to have an increasing number of inhabitants and job growth while also decreasing energy consumption and CO2 emissions. And all this without compromising prosperity or quality of life. This is highly pertinent knowledge when the world's cities are growing and must meet the UN's sustainability targets at the same time. This is especially true of Asian and African cities that have to be improved so that they can give future generations a much better and healthier life and put much less pressure on the climate. Sustainable urban development is not a luxury. For many places in the world it is a basic prerequisite for people to breathe, turn on the lights and the water tap, put food on the table and get from A to B. There is a need for more 'sustainability', but also more 'livability' – to use the two sister concepts that characterize the international debate on the future of cities and for which Denmark is known worldwide. It is precisely this ability to create sustainable cities with people at their heart, that can be a unique and special Danish export product. When international delegations visit Copenhagen, Aarhus, Odense and other Danish cities, they do so in particular to see technical solutions in areas such as energy, water and resource management. They also come, however, to see how we have created cities that are quite simply good to live in, and a society that is characterized in general by confidence, trust and transparency. Sustainability is about urban planning, infrastructure and technical innovation, but is also about everyday life, housing and green areas. Such a holistic perspective on sustainability is the horizon within which Danish companies find themselves, and this influences the solutions they develop. Adaptation to climate change is a good example. Here, the holistic Danish approach is reflected in the fact that a number of Danish cities are implementing this adaptation with an eye to what we call the 'double value'. When, in Denmark, we launch solutions for handling extreme amounts of rain, we do it in such a way that we create new parks, playgrounds or other recreational areas at the same time. Instead of solving the task in the narrow sense – conducting rain away – we look to solve it in a broad sense and create a better city, one which is also better able to conduct water away. These kinds of solutions attract international attention but also need particular expertise to implement. Many factors have to be tackled simultaneously and innovation is needed across municipalities, public utilities and a range of companies.
Focus and cooperation
The world is ready for Danish sustainable urban solutions. To cite one example, the Indian government has announced that it will create '100 smart cities'. However, the question is whether Denmark is ready for the world. While a number of Danish companies in areas such as renewable energy, water and sustainable components for building do very well internationally, there is considerable potential for improvement in the construction industry in general. Construction sector exports account for just two per cent of total Danish exports, equivalent to DKK 19 billion out of total Danish exports of DKK 1.155 billion. This is comparatively low compared to the sector's overall size. There may be many reasons, but one of them is probably that there are, comparatively, many small businesses in construction, which makes operating internationally a major challenge. This is not helped by the fact that international competition is increasing. It is not only in Denmark that we have come to see global urbanization as an opportunity to create growth and exports. Cities from Barcelona to Singapore have set out their stall with prestigious events and initiatives to attract the world's attention and promote their cities as centres of innovation for the future of urban solutions. To be competitive in this league, we need to join forces and focus on the crucial markets, working together to link the international relationships needed to open doors for Danish companies. As the American city researcher, Bruce Katz, points out, the world's megacities are both the economic and political powerhouses of the future. A city of 15, 20 or 25 million residents is a big market and a key player in promoting sustainable development. The decisions taken by the mayors of the world's megacities are just as crucial for the green transformation of the world economy as those that are made at national and supranational level. And cities' influence is increasing, not least because the world's cities are working closer and closer together in international networks. This must necessarily also have implications for how we in Denmark work for export growth. Mega city administrations are becoming increasingly important as a target group for diplomacy, while close and good relations with the civil service in the world's cities are becoming increasingly important, just like our presence in cities' international networks. This also means that both the state and not least the major municipalities will have an increasingly important role to play in paving the way and establishing ties at the political level and between administrations. A good example is the way the City of Copenhagen and a number of companies are working together to forge international partnerships in the area of climate change adaptation. Copenhagen's experience with one of the world's most ambitious climate change adaptation projects is now the impetus for Copenhagen embarking on partnership agreements with international cities like New York, thus paving the way for Danish companies working on projects in those cities. Similarly, it is important to participate in international networks such as the C40 network of international cities, building relationships across the world's most ambitious cities. These considerations are an extension of the foreign policy statement draffed by Ambassador Peter Taksøe-Jensen for the government in the spring of 2016. This paves the way for closer cooperation between development aid, business promotion and economic diplomacy, while also placing a keener focus on which markets and Danish key competencies Denmark should invest in. This is one of the areas that we and the leaders of the world's great cities – and their need for integrated and holistic sustainable solutions – should look.
Next-generation urban solutions
The world's great cities are not just buyers of sustainable solutions. They and their closely interwoven clusters of universities, companies, foundations and public actors are where future solutions will be developed. To be competitive in terms of delivering solutions for tomorrow's major cities, we need a competitive ecosystem where new knowledge is translated into new solutions that are accelerated and scaled efectively to the global market. It is essential that we get better at innovating across disciplines and sectors, between small and large companies and between research and industry. Te challenges that the world's great cities are facing require a holistic approach that crosses the usual boundaries between disciplines or sectors. One of the initiatives that we believe will make a difference is the BLOXHUB association. BLOXHUB has been established as a partnership between Realdania, the Danish government and the City of Copenhagen with a mission to contribute to sustainable urbanization worldwide by developing innovative solutions bridging design, architecture, construction and digitalization. Solutions that can create growth, new businesses and increased exports. BLOXHUB will unite all Danish players who work ambitiously, innovatively and who are internationally oriented toward sustainable urban development. BLOXHUB will support the focus and the cooperation that we mentioned earlier in the article. Between disciplines, between private and public operators, between small and large companies, between universities and companies and between the best Danish and the best international players. The association will be based in the BLOX building on the waterfront in Copenhagen, which, with its world leading exhibition and conference facilities, will become an international showcase for everything Denmark has to offer in architecture, design and new ideas.
This article was originally printed in the magazine Udenrigs that is published by The Danish Foreign Policy Society. This special issue on global urbanization was published in relation to the conference Urbanization and Exports that was hosted by Realdania and The Danish Foreign Policy Society.