How a small-scale school project shows the way toward sustainability
Is there a way forward for sustainable development in rural areas in South Africa? Maybe even for the African continent as a whole?
The answer is yes if you ask South African-born architect Thomas Chapman. In 2012 he founded the award-winning architectural practice Local Studio in Johannesburg, and he is currently a Doctoral Candidate at ETH Zürich and Chair of the History and Theory of Urban Design.
Chapman's LAPALALA wilderness school project in South Africa's northern province of Limpopo is an example of what rural sustainable development in the future could look like.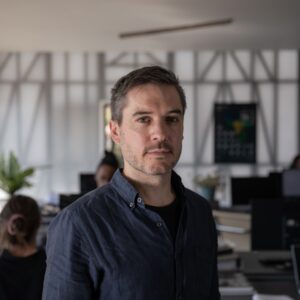 Chapman says this simple and easily replicable prototype project that was completed in 2020 can pave the way for making rural villages completely energy independent. Great news for a country that is currently facing a massive energy crisis.
Simultaneously, the model will add value to citizens living in poor areas, he says, by creating more attractive, comfortable public spaces – much like in urban settings – while supporting the UN's Sustainable Development Goals.
As African countries face similar challenges shifting to greener ways of building and living like South Africa, Chapman believes his project in Lapalala holds essential lessons that can be applied to rural areas all over the African continent.
Highly coal-dependent 
Although South Africa has an abundance of coal, the country faces frequent power cuts that can last up to 10 hours a day. This is due to poorly maintained power plants and increased demand making renewable energy attractive.
About 77 percent of South Africa's primary energy needs are provided by coal. The country faces international pressure to turn from a black to a green energy source.
However, although South Africa is blessed with abundant wind and sunshine, it will require time and plenty of investments to make the shift.
Resistance is in part due to vested interests:
The coal industry employs many South Africans, and they fear losing their job in a transition. For the government, the fear of losing votes is an issue. The government is also reluctant to invest in large renewable energy projects. Many of the deposits can be exploited at extremely favorable costs, and as a result, a large coal-mining industry has developed. 
Rural development at a crossroad
Almost 20 million people live in the 90 percent undeveloped, rural areas where the unemployment rate is as high as 50 percent. Chapman's work focuses on adding value to rural regions by creating livable centralities. He says village centers that add value and feel comfortable will attract people and generate employment opportunities.
Reform in rural areas in South Africa today is mostly taking place in the wealthier regions with fertile land, which covers only about 10 percent of South Africa. Not leaving the poor in the remaining 90 percent of the country behind is a primary concern for Chapman's work.
The unfertile areas are perfect for solar energy. This makes it possible to lead the poor areas towards more sustainability – and Chapman predicts that more investments in sustainability projects will take place in the next 5 – 10 years.
LAPALALA WILDERNESS SCHOOL
One model and investment case for sustainable development in South Africa's rural areas is the Lapalala Wilderness school project that was completed in 2022.
The school, located in the northern province of Limpopo – a wilderness area declared a UNESCO Biospheres area in 2001- is entirely self-sufficient and runs on solar panel energy.
The facilities are used as a biodiversity camp where students come with their teachers and stay for one week at a time for educational purposes.
 Temperature exceeds 40 degrees Celsius in summer, and the school is designed with teaching facilities indoors and out. The building materials were primarily found locally on-site, using rammed earth and rock as the primary construction material.
The school has room for 128 students and six visiting teachers. It has a dining hall, library, reading rooms, student accommodation rooms, small adjacent houses for teachers, two learning halls, and outdoor spaces for studying and recreational purposes. The school also has a vegetable garden, swimming facilities, and a repair workshop.
All furniture was made on site of steel and wood specifically for the project. The furniture is designed to easily be repaired in the school workshop by the permanent staff.
To access the wilderness school, a road had to be constructed. A curious detail for non-South Africans is the design of the paths around the school that are very wide, designed to avoid snakes and wild animals like crocodiles reaching the school from the wilderness and nearby river. 
The infrastructure is a large part of the costs for projects in rural areas and adds up to 50 percent of the total cost. The cost of the school project in total was five million euros – making it very affordable.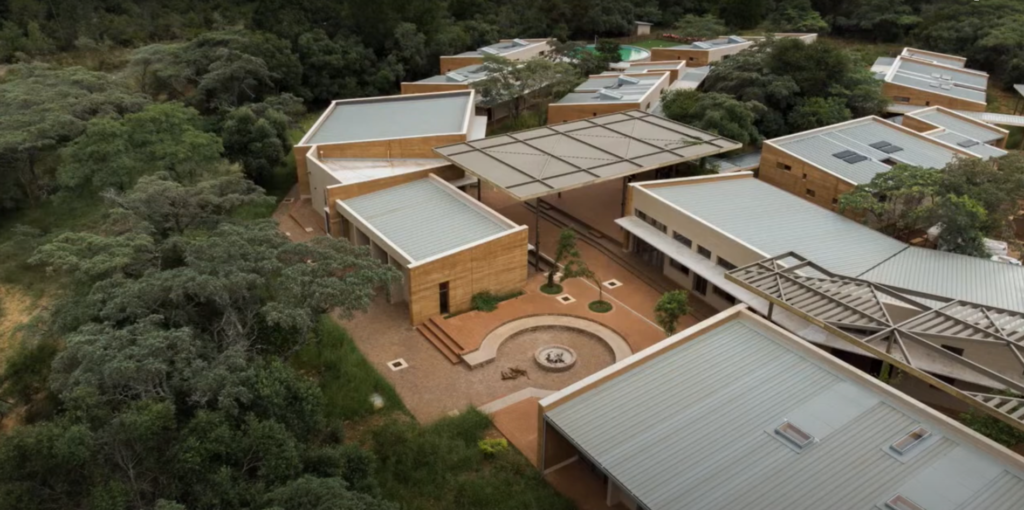 Adding elements of economic sustainability
 An unexpected but welcomed development was how the project, after completion, became a space for multifunctional purposes, says Chapman. He calls it capacity building when a private entity becomes a public asset.
When the school was completed, the local government took a liking to the place and started renting it for gatherings and meetings. The catering facilities for such occasions can easily convert into a full-fledged restaurant.
Secondly, the school started to repair vehicles for a nearby safari lodge – alongside repairing their own cars. That way, an element of economic sustainability was added by developing new jobs that are highly needed in these areas.
Showing the way for African development
Chapman hopes that the Lapalala will lead the way for sustainable development in Africa:
There are very few prototypes out there – this project shows how things can be done. The catalyst is the energy crisis. But if you invest, you create a center with a very urban, public feeling. And the best part is that it is replicable, he says.
As such – in the continued effort of leaving no one behind in poor rural regions, a small project can show the way for big changes.
Chapman hopes to see more investments in these small-scale, high-impact projects with urban design at its center – giving them a feeling of accessibility.
They can make a significant difference if you scale it up, he concludes.
This article is based on an interview with Thomas Chapman as well as his online talk in the 'Leave No One and Nothing Behind series.' The series is a cooperation between BLOXHUB & UIA World Congress of Architects CPH 2023.
The original title of the talk: Strategies for Rural-Urban Impact in Post-Coal South Africa.