The UIA World Congress of Architecture Copenhagen 2023 has ended, the last delegates have left for the airport, and after a buzzing week of debates, panels, workshops, matchmaking, and tours, Copenhagen is back to its quieter self.
So, what emerged from the UIA's many activities and exchange of ideas? And more importantly – will gathering 6000 delegates from more than 135 countries translate into tangible measures capable of reshaping the fabric of the built environment?
BLOXHUB got to raise weighty and essential debates that will serve as a springboard for our ongoing efforts to influence and bring about a collective understanding of the burning issues at hand. The real challenge now lies in harnessing the momentum garnered during the congress and translating it into fundamental, lasting transformation.
BLOXHUB co-hosted a paramount debate on "The New European Bauhaus Economy." This visionary concept seeks to integrate sustainability, livable communities, and climate resilience within Europe. Recognizing the need for a complete transformation of underlying economic structures and existing systems, the discourse aimed to lay the groundwork for a sustainable future.
Additionally, BLOXHUB co-hosted a panel discussion on 'Sustainable Transformations of Architecture: How Do We Embrace the Beauty of Ugly? The panel debated whether we are ready for a new set of esthetics values and how to make it desirable to change.  Are we willing to start asking the question: Is this beautiful? For whom? Maybe not just for humans? This propelled a discussion on redefining our desire, acknowledging our interdependencies, and creating visions for something that doesn't yet exist. The debate struck a chord with an audience that seems to concur with the panel's belief that, in the future, concepts like aesthetics & ethics cannot be separated.
BLOX's Tour de Chambre connected UIA attendees from near and afar
One of the standout events during the UIA World Congress of Architecture was our Tour de Chambre, a remarkable open house event hosted in collaboration with BLOXHUB's neighbor organizations in BLOX. During the Tour de Chambre, UIA attendees and friends of the house from around the world had the opportunity to witness firsthand the innovative circular solutions produced by BLOXHUB's member companies in our Members Lounge.
For BLOXHUB, the Tour de Chambre represented an extraordinary opportunity to open our doors, establish a lasting presence and engage with a wide array of professionals. It allowed us to showcase the essence of BLOXHUB while extending a heartfelt invitation to explore our ecosystem, solidifying our position as a hub for innovation and a catalyst for change.
The event attracted nearly 700 global visitors who seized the chance to learn about BLOX.
Wood ReFramed: BLOXHUB's Pavilion built from Discarded Timber
In a remarkable display of craftsmanship, architect Xan Browne breathed new life into old timber and discarded materials and created the pavilion Wood ReFramed at the UIA World Congress of Architecture.
Within the pavilion, where the seating area was constructed like a giant swing, Ph.D. students from BLOXHUB's Science Forum network seized the spotlight, sharing their research findings and engaging in profound dialogues.
More than a stage, this architectural structure proved to be a platform for fostering communication, facilitating thought-provoking conversations, and igniting the exchange of ideas. For many delegates, it became the preferred sanctuary during breaks—a space to savor lunch and engage in stimulating discussions.
Wood ReFramed represents the culmination of Xan Browne's industrial Ph.D. collaboration with Lendager and the Royal Danish Academy and epitomizes the Circular Built Environment Network's dedication to advancing sustainable design practices. Browne's vision for the project was rooted in exploring the potential of timber utilization, particularly in repurposing discarded timber from various sources to form integral architectural structures.
Reflecting on the project's accomplishments, Browne highlights the ability to construct a small building-scale endeavor with limited resources as a resounding success. He envisions leveraging reclaimed waste wood in larger load-bearing structures, ushering in a new era of sustainable architectural practices.
The Hacktivist Guide to Food Security: An Alternate Roadmap to Urban Food Systems
The activity that marked the end of the UIA for BLOXHUB was our cooperation around Future Food Systems with Smith Hammer Lassen: A talk, a workshop, a pavilion at Bryghuspladsen, and a publication launch took participants through research, case studies, and interviews, all collected and presented in a publication that aimed at encourage meaningful discussions about the future of food systems and how they intersect with how we plan our cities.
The publication compares innovative food systems by analyzing their environmental, economic, and social framework and drawing on insights from various cultures, thought leaders, and urbanists from places such as São Paulo, California, and Japan.
The Copenhagen Lesson: Guiding Principles for the Future of the Built Environment
The UIA 2023 concluded by unveiling a set of ten principles known as the Copenhagen Lesson. These principles are poised to shape the trajectory of the built environment as we forge ahead into the future and, as such, aim at paving the way for change.
At BLOXHUB, we strongly support these principles, and with a united industry ready to follow suit, the Copenhagen Lessons are likely to help guide a new era of urban development.
The 10 Copenhagen Lessons are:
01: Dignity and agency for all people is fundamental in architecture; there is no beauty in exclusion.
02: People at risk of being left behind must be accommodated first when we construct, plan, and develop the built environment.
03: Existing built structures must always be reused first.
04: No new development must erase green fields.
05: Naturel ecosystems and food production must be sustained regardless of the built context.
06: No virgin mineral material must be used in construction when reuse is possible.
07: No waste must be produced or left behind in construction.
08: When sourcing materials for construction, local renewable materials come first.
09: In everything we build, carbon capture must exceed carbon footprint.
10: When developing, planning, and constructing the built environment, every activity must have a positive impact on water ecosystems and clean water supply.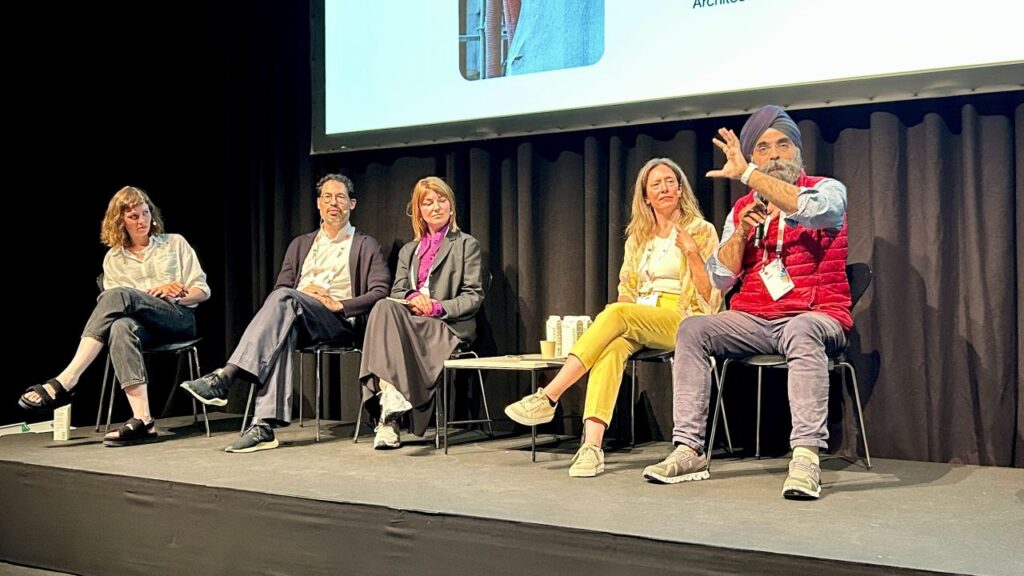 Photo: Debating the New Bauhaus Economy
At BLOXHUB, we look forward to seizing the momentum from the UIA to build on the insights and lessons. Undoubtedly, the UIA assumed a pivotal role as a catalyst and a crucial stepping stone toward creating a lasting impact. The next step will be to forge powerful alliances by bringing together cross-sectoral stakeholders to propel change. In this regard, BLOXHUB is firmly committed to taking a leading role. Stay tuned on all our channels to follow upcoming initiatives.