The BLOXHUB program Tech Match is launching a fourth round of matchmaking, helping the built environment pave the way for a green transition with innovative solutions.
Do you know the feeling of having a great idea for a solution to a problem, whilst knowing that the expertise for that solution lies just beyond your reach?
We're trying to fix that. Through the Tech Match program, we pair SMB's and/or start-ups to bridge the gap between what you want to do and what you feel you're able to do. We believe that innovation thrives through collaboration, and we're proud to present a new, fourth round of Tech Match, running from January 2022 till July 2022.
The new round introduces five new matches, spanning from software- and platform development to upscaling of CCUS technology (Carbon Capture, Usage, and Storage).
Meet the Matches  
The five new matches all present solutions to challenges within the built environment and contribute to the green transition within the industry. You can read about all five matches below: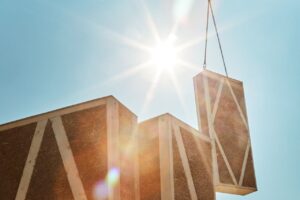 Match: EcoCocon Danmark ApS + JDH-BYG ApS
Solution: Wall Units with Straw Insulation
One way to accelerate the green transition in the building industry is by switching to biobased materials. This match contributes to that agenda with their solution: Wall units with straw insulation for industrial building processes. It is a CCUS technology (Carbon Capture, Usage, and Storage), and thus embeds carbon instead of emitting it as standard walls do.
Match: Ento Labs ApS + Høje Taastrup Municipality
Solution: An Intelligent Benchmarking Module
Energy efficiency is one of the most important factors in the green transition, but it can be costly and difficult to install meters, gather and analyze data, prioritize, and follow up on measures. This solution is a data-driven, scalable system that uses machine learning to recognize and offer suggestions for the optimization of energy efficiency in buildings. The amount of data taken into account will ensure greater precision and improve the process.
Match: Havnens Hænder ApS + POND A/S + Knudsen Kilen A/S
Solution: Biobased Plastic Wedges
The solution of this triple trouble of a match is to make plastic wedges for the built environment out of biobased and biodegradable plastic, ensuring a lesser carbon footprint in the building industry and thus helping the built environment along in the green transition.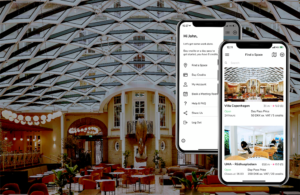 Match: Joes & Cos ApS + TSH Group ApS
Solution: Unlimited Access to Workspaces
In Copenhagen, more than 100.000 sqm of offices and spaces are empty and unused. At the same time, more and more knowledge workers work from home, even though they would like greater flexibility when it comes to the work environment. This solution will present software, a platform, and a business model to ensure the utilization of the existing building mass and thus create value for both workers, real estate owners, and the city.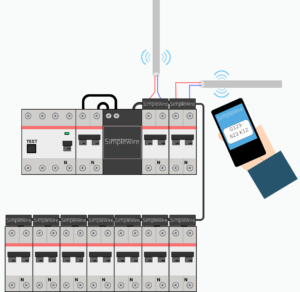 Match: Simplewire ApS + Copenhagen Airports A/S
Solution: Automatized Marking of Electrical Work
This match will help solve a problem with electricity and breaker panels that have existed for as long as electricity itself. Until now, the only way to make sense of electrical work is by labeling sockets, which can be very time-consuming and costly. With this fully automatized solution, Simplewire will make the process a lot easier, saving both time and money, whilst also reducing the risk of downtime and damage.
Former Rounds of Tech Match
The new round of Tech Match is the fourth of its kind. In 2021, the first two rounds of Tech Match resulted in 10 completed matches, and in the third round, 3 more matches started their journey.
All in all, Tech Match thus encompasses 18 different matches between Danish and European SMB's and start-ups. Some of the countries who have participated in Tech Match include Portugal, France, Bulgaria, and Austria.
From rounds one and two of Tech Match, we have 10 completed projects. A few of the high lights include smart manhole covers to prevent flooding, a recycling water unit, Sunbird – an integrated solar cell roof with grid distribution, and Ecobuilders, a solution that enables fossil-free emissions from construction sites.
These are just some of the solutions created. 95% of matches report increased sales as a consequence of Tech Match while 60% have adopted new processes to enable innovation.
We're proud to be part of this development and collaboration and look forward to presenting the work of the five new matches in the coming year.
If you have questions about the Tech Match program or the matches, please reach out to Program Manager, Peter Landau at pla@bloxhub.org. The Tech Match Program is funded by Realdania and FundingBox.